Today a client texted me and said that since our ONE shamanic healing session,
she's had ZERO flashbacks of the sexual assault she experienced earlier that year.
Here's exactly what she said..

And I couldn't remember how often she was having flashbacks before so I asked her and she said..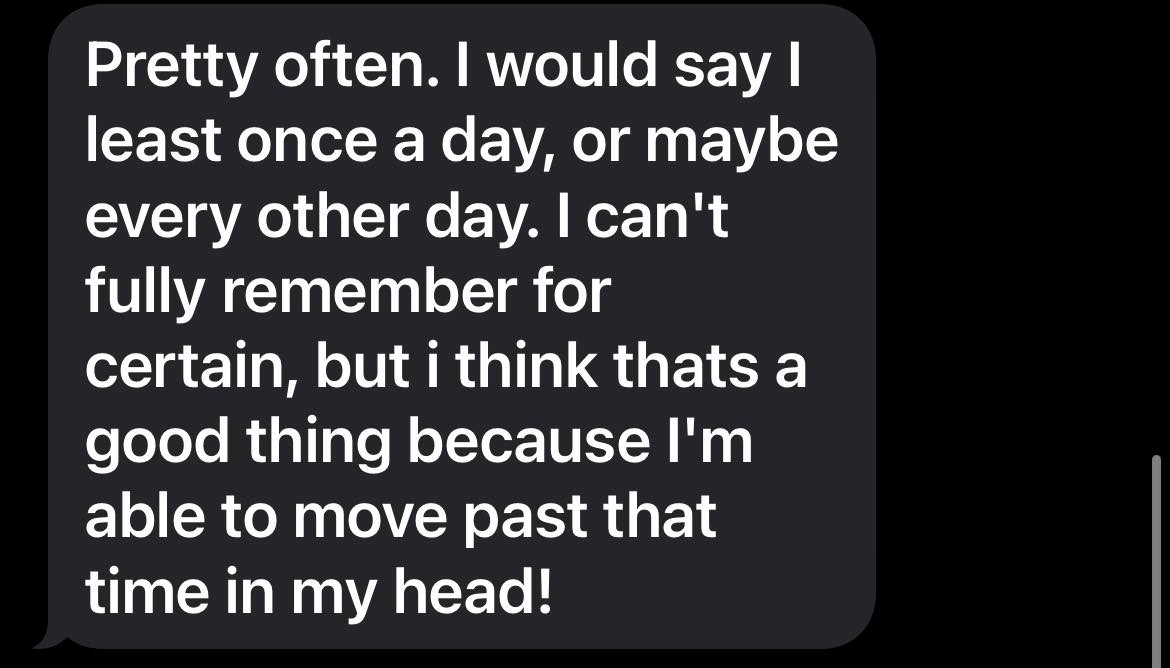 WOW…from daily disturbing flashbacks to complete and total freedom….
So I've decided to write this blog post to talk about trauma, flashbacks, and healing yourself from them.
I remember with my client she was so confused why she was stillllll having flashbacks
She just wanted to move past it…but couldn't.
That's how most people are when it comes to traumatic memories and experiences…it sticks with them, but they just want to let it go.
Unfortunately, the brain doesn't listen to our direct commands. We can tell ourselves to get over it..we can try to act differently as if it's not affecting us…but our brains do this thing where it "keeps the tab open" until the past experience is resolved.
Our brains keep the trauma tabs open until it's resolved
The fact of the matter is….if you're having disrupting flashbacks or maybe you just feel stuck and like you can't move forward because of your past…the tab is still open!
And it keeps coming up in flashbacks, in circumstances with other people, in emotional patterns, etc because the tab WANTS to be closed. It wants to be resolved and it's trying to show you that.
The first thing my client and I worked on in her session was understanding that the flashbacks aren't a bad thing. The flashbacks are a good thing trying to help her and we can't push them away or skip over them if we want to truly heal and move past it.
We can't push away negative emotions and memories. They are there to help us heal and move forward beyond the trauma.
From there…the session was unique to her, to the nuances of the assault, to how she interpreted it, and to the emotions that were stuck with her like guilt, confusion, etc.
If you've experienced sexual assault or some other form of trauma that you're still experiencing flashbacks or negative patterns from, please book a shamanic healing session to break from it.
What I want you to take away from this blog post are these four points
Trauma stays with you and influences you in various ways until it's resolved

Trauma will keep a tab open in your brain and try to communicate with you that it's still open through flashbacks, negative emotions, negative thoughts, and unhelpful habits.

Don't push away negative emotions and memories. They are here to teach you where your healing can be found.

You absolutely 100% can be free of it in a way that feels like it almost never existed.
If you want 1 on 1 shamanic healing help with this, book a free consultation and we can chat more.